Tuscan Village Celebrates End of Phase 2 with Prep, Race & More | New Hampshire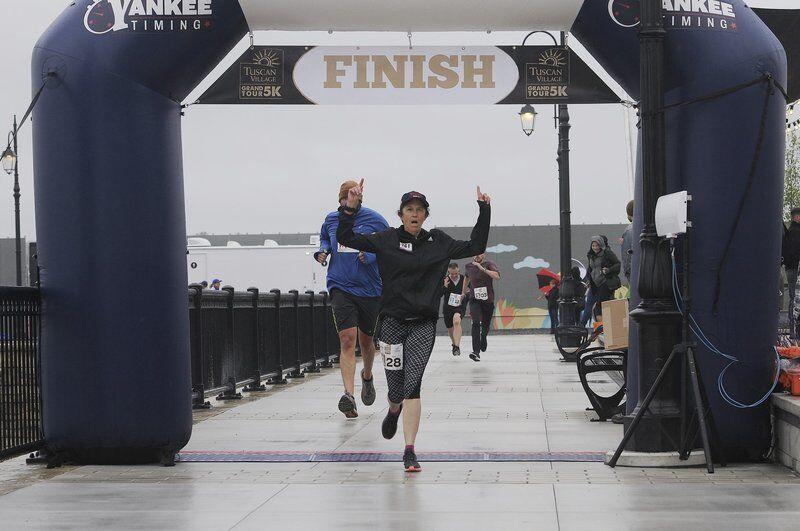 SALEM, NH – Celebrity Chef Mary Ann Esposito took on Tuscan Brands founder Joe Faro in a meatball-making contest on Saturday during the Tuscan Village Phase 2 Grand Opening.
Esposito's recipe, which sparked some questioning looks, included ground pork and veal sausage with pine nuts, golden raisins, fresh garlic, sautéed onions and Italian Parmesan.
Faro's recipe included ground pork, beef and veal, caramelized onions, roasted garlic, and "a lot" of Parmesan – so much so that he asked his assistant to bring him a second bowl.
As they were sautéing their meatballs in olive oil, Faro remarked, "It smells like Sunday morning."
The roundtable was the culmination of an activity-packed weekend to celebrate new stores and activities in the 3.8 million square foot multi-use destination. The festivities started in the morning with a ribbon cutting, immediately followed by a race of 500 people to raise funds for the Boys & Girls Club of Grand Salem.
While cooking meatballs, Esposito – the host of America's longest-running cooking show, "Ciao Italia" – surprised guests with some fun facts about the favorite Italian dish.
She told the crowd of spectators and tasting judges that in Italy pasta and meatballs are not a thing.
"The pasta is a first course and the meatballs are a second course, unless it's a casserole," she said. "If you were to ask that (pasta and meatballs) you would probably get a lot of looks."
And when it comes to the shape of the meatballs, Esposito said that the meatballs are not round in Sicily, but rather a moderately flattened disc shape.
The judges included interior designer Taniya Nayak of "Restaurant Impossible", former Phantom Gourmet CEO Dave Andelman, and members of Faro's family, including his parents.
The judges found themselves at a dead end and congratulated the two chefs on their delicious but different meatballs.
Hundreds of people from across the region came to see what the Tuscan village was like, including RJ Lawson and his wife, Esther Lawson, from Pelham.
"The fact that we have that in southern New Hampshire and we don't have to go to Somerville or Arlington… that area has improved with this addition," RJ said. "I enjoyed watching it grow from what it was, the greatness of Rockingham (Park), and now to this rebirth."
Aaron Froud of Methuen and his wife, Jennifer Martin, had a drink and a patio in front of one of the propane fireplaces.
"It reminds me of Assembly Row in Somerville, but it's more open and I like what I'm seeing so far," Martin said.
The pride of the village is surely the Tuscan market, which offers a variety of Italian desserts and ice cream, fresh and prepared foods, breads and pizzas baked in Italian ovens, wines, imported cheeses, condiments, pasta fresh and products from Italy. like canned San Marzano tomatoes.
The market is designed to look like it's been around for decades and brings a bit of Italy to Salem.
Saturday activities included attractions such as the LL Bean snowmobile, gondola rides, cartoon sketches, a traveling magician, stilt walkers, wine tastings, a Smuttynose beer garden and food carts. The day was crowned with fireworks in the evening.
Faro said he was excited about the events of the day and eager to see his dream come true.
Sunday's events included much of the same, as well as cooking classes and a farmers market.
In 2016, Tuscan Brands acquired the 170-acre property officially known as the Rockingham Park Circuit with the vision of transforming it into a place where people could live, work and play.
Visit tuscanvillagesalem.com for more information.
THE OPENING OF THE TOSCAN VILLAGE CONTINUES ON MONDAY
Morning until early afternoon: live music, lawn games, LL Bean snowmobile and more
9:00 a.m .: Tuscan Sweatshirt Series: Free Outdoor Class with Drive Custom Fit.
9:30 am: Free Jazz and Java with the Tuscan Market at Lake Park.
Noon: La Scuola Culinaria cooking class and Aperol Spritz cart by Container Bar.