The island of Zanzibar in the Republic of Tanzania is planning the world's tallest mass timber hybrid tower, a 28-storey residential and commercial building to reach a height of 96 m (315 ft).
Once built, this tower will leave behind the tallest mass timber building in the world in Milwaukee, Wisconsin, which currently stands at 85.4 m (280 ft). The 266-residence tower will be located in the town of Fumba, an environmentally sensitive residential development in East Africa, proposed by German engineering firm CPS.
Named Burj Zanzibar – "Burj" which means tower in Arabic – the skyscraper is dubbed a "vertical green village" for its abundant green rooftop gardens and planted balconies, which aim to further reduce the building's carbon footprint.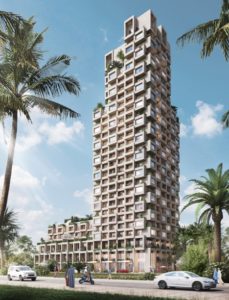 The design of the mixed-use apartment and commercial building displays a playful architectural style by combining modern urban trends with local culture, reminiscent of a beehive with honeycombs.
"Panoramic windows, enclosed green loggias and a modular layout will enhance the tower's green nature and allow for flexible apartment floor plans to suit all cultural preferences," says Leander Moons, the original architect Dutch responsible for the concept.
Burj Zanzibar will feature a reinforced concrete core, designed to meet all fire and life safety standards. It will also use locally available wood as a construction material to improve its sustainability performance. The project is to be executed by a consortium of eminent specialists from Switzerland, Austria, Germany, South Africa, Tanzania and the United States.
The project is to be developed for the real estate company CPS Zanzibar Limited. In addition to the conceptual design proposed by its principal architect, Leander Moons, who runs his own practice in New York, LEANDER MOONS INC. The German architectural firms OMT architects GmbH and Birk Heilmeyer und Frenzel Architekten GmbH are also responsible for the architectural design. The German company knippershelbig is the structural and façade engineer for the project, and the Swiss companies Ignis – Fire Design Consulting GmbH and Kasburg Siemon Ingenieure KIG are the fire and life safety consultants. Based in Tanzania, Webb Uronu & Partners Ltd is the quantity surveyor; and Volks.house and binderholz will provide the wooden components and assembly services for this project.